Accommodations
SALA DONE KHONE comprises of French colonial style buildings and local style bungalows. Its interiors are decorated accordingly. All rooms include air conditioning, ceiling fan and private bathroom with hot and cold showers, selective amenities and accommodate with a double bed and/or attached twin beds.
French Heritage Villa
The building design and construction in architecture of French Colonial style. Construction is expected to begin around 1896, to be a reception villa for high ranking officers  which in that time a state enterprise under the Ministry of French colonial-called "Saigonaise Navigation and Transport Company and Couriers Fluviales of Cochin" has come to build an infrastructure in this area, which consists of a reinforced concrete bridge and railway line crossing the Mekong to Don Deth. And other facilities, including hospitals, office staff, postal, customs offices and administrative offices, which to this day remains to be seen.
Ban Lao Classic
Three Lao bungalows built in 1995 in the spirit of Lao Colonial style with twin roof of ferra cotta tiles and wood shingles, timber walls and set above the ground on timber posts and bricked columns. Lattice wall panels are painted in the local vibrant color which trigger the exotic mood of the islands. Each room is fairly large with separate bathroom and balcony. Lime washed walls, bamboo paneled ceiling, hardwood flooring and rattan arm chairs all provide you with comfort and sooth you with the colonial ambiance.
Sala Phae (Floating Bungalow)
These floating bungalows are carefully built with Natural friendly; all material was selected to protect an environment and greenhouse effect. All rafts equip with waste treatment using bio-technology which you can ensure water's quality surrounding our Floating bungalow. Hardwood flooring provided in eight spacious rooms with private bathroom and balcony. You can also enjoy sprinkle stars on the sky by sitting on the desk above your room. Its simplicity to make you touching with the nature; laying down on the timber floor, sitting on the rattan chairs watching the sunset, feet on the Mekong or simply jump into. It isn't a star resort but can fulfill your dream.
French Studio
Renovated completed in year 2010 from part of the old hospital of French Colony. The structure of the building is still owned by the original, only update walls and interior decoration. As well as a large terrace, the supplement has created the same atmosphere as you sit at home in your own garden. Sounds of nature will be your friend at night, and the sound of birds singing will wake you up in the morning.
Ban Din Studio
The First Eco-Resort in Laos, the structure was built by clay and sand bag, roof using recycle material by French technology. All rooms were painted by soil colour. Our rooms can reduce at least 80% of chemical material. Environmentally friendly, rooms temperature control, interior design and rooms facilities provide you with standard of 5 stars hotel.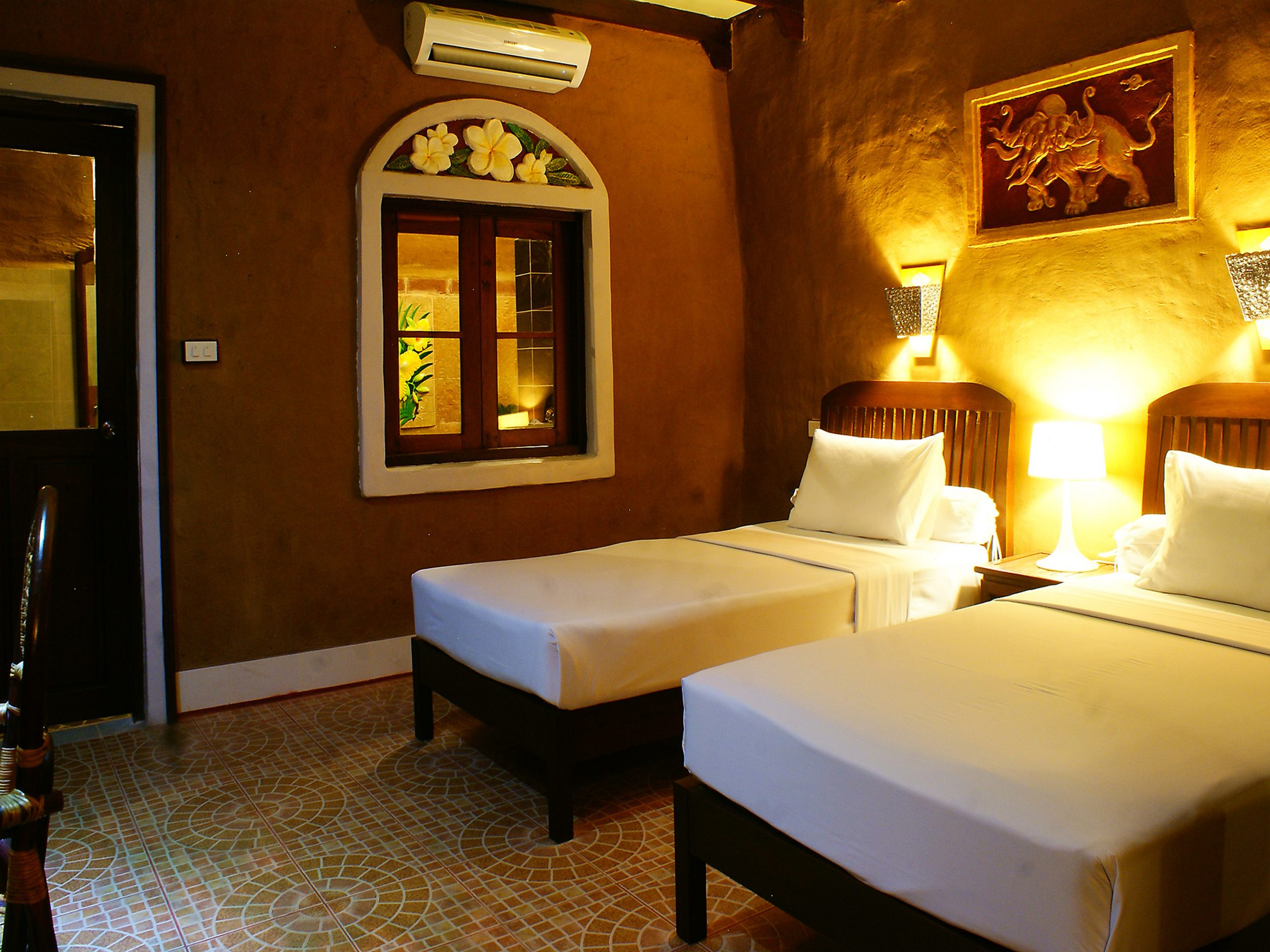 Ban Din Deluxe
The same of Ban Din category, but more luxury and privacy. This room type designed for a group of family or close friends who need big space and the privacy section. Big balcony together with tropical garden and fish pond make you feel relaxed as home.